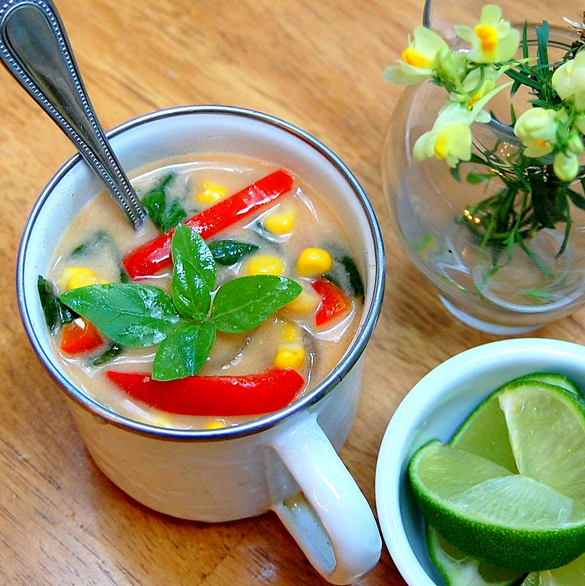 Yield: 6 servings
Ingredients:
2-3 ears fresh corn, kernels scraped from cob, 2 cups
4 cups fresh baby spinach
1 cup yellow onion, thinly sliced
1 cup red bell pepper, thinly sliced
2 cloves garlic, finely chopped
2 (15 oz) cans light coconut milk
1 cup no salt added vegetable stock
1-3 tsp red curry powder, adjust to taste
1 tbsp date syrup or maple syrup, optional
Black pepper, to taste
Fresh basil, chopped
Directions:
Heat a medium-sized saucepan over medium-high heat, add the onions and two tablespoons of water. Saute until onions are translucent, stirring often adding a tablespoon of water if onions start to stick, about 5 minutes.
Add garlic and sauté for an additional 1 minute.
Add corn and sauté for 5-8 minutes stirring constantly, adding a tablespoon of water when needed.
Add bell pepper and sauté for an additional 2 minutes.
Add coconut milk, vegetable stock, date syrup, and curry powder. Bring to a simmer and cook for 5 minutes.
Add spinach and cook until just wilted, about 3 minutes. Season with pepper and adjust to taste.
Serve with fresh chopped basil and lime wedges.
View more at Virtually Vegan Mama