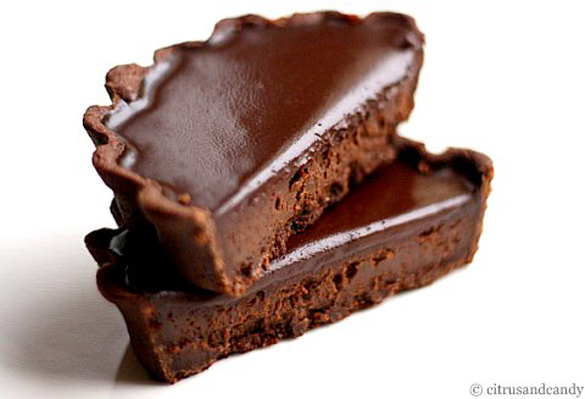 Chocolate Pastry
320g plain flour
60g cocoa
160g caster sugar
Pinch salt
160g cold butter, diced
2 eggs
Chocolate tart mixture:
210g good quality dark chocolate (with high cocoa content), chopped
60g Valrhona jivar/jivara chocolate, chopped – if unavailable then just use another 60g of the dark chocolate
60g butter, diced
315ml cream
3 eggs
2 egg yolks
**EDIT** A lot of people has enquired about jivar chocolate. Jivar or Jivara is available from French chocolate manufacturer Valrhona and you should be able to find it at specialty or gourmet food stores or online. However if this is unavailable then just replace it and use 270g of any good quality dark chocolate with a high cocoa content (instead of 210g of dark choc and 60g of jivar).
Chocolate glacage
300g dark chocolate, chopped
240ml cream
300ml chocolate sauce
Chocolate sauce – for the glacage
60g cocoa
200ml water
120g caster sugar
25g butter, diced
Instructions:
To make the pastry, preheat oven to 180°C. Place the flour, cocoa, sugar, salt and butter in the bowl of a food processor and process until it resembles fine breadcrumbs. Add the eggs and process until dough just starts to come together.
Turn on to a lightly floured surface and gently knead until just smooth. Shape into a disc and cover with plastic wrap, then place in the fridge for 10 minutes to rest.
Roll out the pastry to a 15 x 40cm rectangle, about 3mm thick. Line a shallow rectangle 10 x 34cm (base measurement) fluted tart tin with a removable base with the pastry and trim any excess. Place in the fridge for 15 minutes to rest. You could use a round tart tin if you wish and any excess I had I used on mini tart tins.
Line pastry with baking paper and fill with rice. Bake for 10 minutes. Remove paper and rice and bake for a further 5-10 minutes or until firm to touch.
To make the tart mixture, preheat oven to 160°C. Place chocolate and butter in a bowl.
Place cream in a saucepan and bring to the boil. Pour cream over chocolate in bowl and stir until smooth, stir in eggs.
Pour chocolate mixture into tart shell up until about 3/4 full (you'll need to leave enough room for the glacage). Bake for 25 minutes until the centre has just cooked and the top has just set. Take the tart out of the oven and allow to cool to room temperature before topping with the chocolate glacage (recipe follows after). Refrigerate tart in fridge until firm before serving.
For the chocolate sauce (for the glacage), combine cocoa, water and sugar in a saucepan and stir over heat until sugar dissolves. Bring to the boil, stir in butter until melted and mixed. Strain through a sieve placed over a bowl and set aside.
To finish the glacage, place chocolate in a large bowl. Place cream in a saucepan and bring to the boil. Pour cream over the chocolate in the bowl and stir until smooth. Add in the chocolate sauce that you just made and stir (recipe above). When the completed tart has cooled, spoon or pour the glacage over the tart and place in fridge until firm.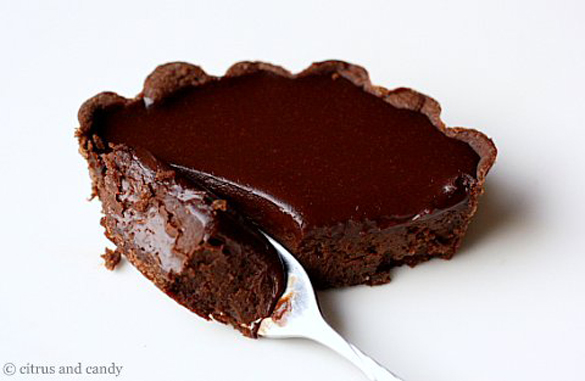 Recipe adapted from Matt Moran
View more at Citrus and Candy
Incoming search terms:
resepi pai coklat
,
resepi tart coklat
,
resepi pai coklat mousse