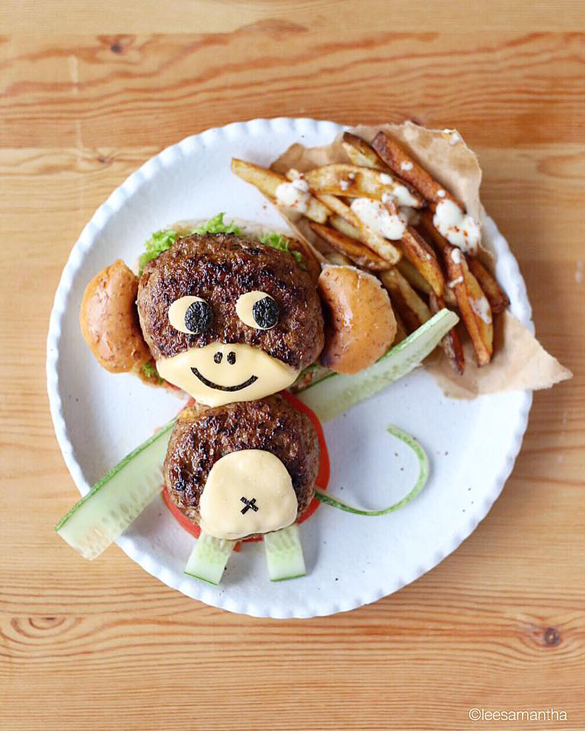 Swing like a monkey🐒!!!
food art by Lee Samantha
Ingredients:
– Buns (cut the buns in half and toast them for 2 minutes in frying pan)
– Patties (season minced beef with sea salt and pepper. Cook the patties in frying pan over medium high heat. Turn the patties after 3 minutes, TOP them with mozzarella and cover them with a lid. Cook for further 2-3 minutes until the mozzarella has melted.
– Cucumber
– Nori
– Bake French Fries (mix olive oil, garlic powder, salt and paprika). Bake for 45 minutes at preheated oven 220 degrees.
Lee Samantha is a Malaysian mother and Food Artist who creates whimsical, colourful and healthy meals for her two young daughters. She started turning food into fun and unique artworks to help her eldest daughter eat independently and healthily back in 2008 and started posting on Instagram in 2011.
Since then, her unique and incredibly creative approach of 'storytelling' on a plate has not only delighted her daughters but has garnered her local and international attention.
Samantha's approach is fuss free and imaginative, using simple tools to create her food artworks. She doesn't believe in wasting food and is a strong believer of utilising fresh and healthy ingredients.
"I like to keep things simple. Use what you have in the kitchen. You don't need special tools or ingredients – just imagination!"
Lee Samantha: website