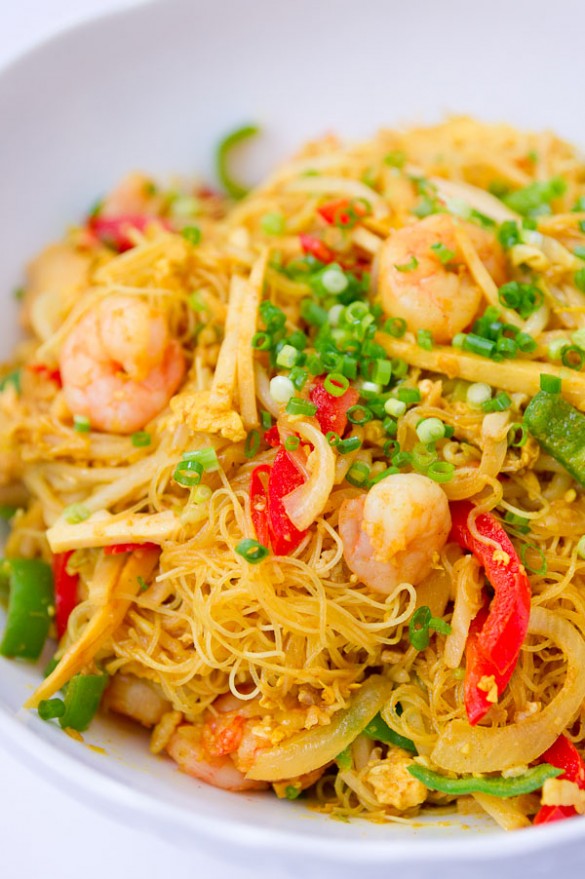 Ingredients:
5.5 ounces dried rice vermicelli (a.k.a. mai fun)
4 ounces small shrimp, peeled and deveined
4 ounces pork, cut into strips
2 teaspoon soy sauce
2 teaspoon Chinese rice wine
1 teaspoon corn starch
2 tablespoons curry powder
2 tablespoons fish sauce
1 tablespoon oyster sauce
3/4 cup chicken stock
2 eggs, lightly beaten
2 cloves of garlic, minced
1 tablespoon minced ginger
1/2 medium onion, sliced
1/2 red bell pepper, chopped
1/2 green bell pepper, chopped
8 ounce can of strip bamboo (julienned)
4 ounces bean sprouts
3 green onions, sliced thin
oil for stir-frying
Directions:
Soak the dried rice noodles in very hot tap water (about 140 degrees Fahrenheit) for 3 minutes. Be careful not to over-soak them or they will start sticking together and get mushy when you cook them. Start pulling the noodles apart as soon as they start softening. Rinse in cold water several times to prevent the noodles from absorbing too much water and to wash off excess starch.
Add the shrimp and pork to a bowl and season with the soy sauce, rice wine and corn starch. The cornstarch will keep the meat moist and the shrimp firm.
Measure out the curry powder into a small bowl. In a separate bowl, combine the fish sauce, oyster sauce and chicken stock. Because everything cooks very quickly it's important to have all your prep done ahead of time.
Heat a wok over high heat until very hot then add a tablespoon of oil, swirl to coat, then add the egg, swirling then scrambling. Put the egg on a plate and set aside. Add 2 tablespoons of oil, then add the garlic and ginger, and then fry until fragrant. Add the shrimp and pork, holding aside the marinade and fry until the pork just loses its pink color (it doesn't have to be all the way cooked.
Add the onion, red and green bell peppers, bamboo, and bean sprouts. Fry while stirring vigorously. Until the vegetables are a bright color. Add the curry powder and stir-fry until fragrant, then pour in the chicken stock and fish sauce mixture. Stir, to combine, then add the noodles and return the egg to the pan. Use chopsticks or tongs to evenly coat the noodles with sauce. If the noodles start sticking, add some water.
Top with scallions, then serve your Singapore Noodles immediately.
See more at norecipes.com