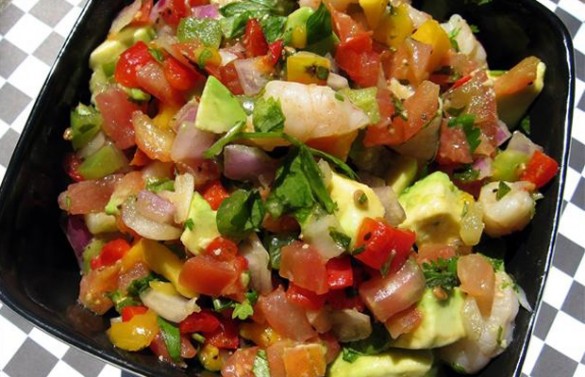 Shrimp Salsa is great with tortilla chips or sliced cucumber. An excellent party idea.
Ingredients:
8 oz (240 g) cooked shrimp
1 tablespoon extra virgin olive oil
1 clove garlic, peeled and puréed
1 ripe avocado, peeled and diced
2 tomatoes, peeled and diced
1/2 cup finely chopped onion
1 jalapeño pepper, seeded and minced
1/4 cup freshly squeezed lime juice
1 teaspoon salt
pinch of freshly ground black pepper
Directions:
1. In a mixing bowl, combine shrimp, extra virgin olive oil and garlic.
2. Toss well.
3. Add remaining ingredients and mix well.
4. Cover and refrigerate shrimp salsa for 1 hour.
Via: best-recipes.salamandra-review.com