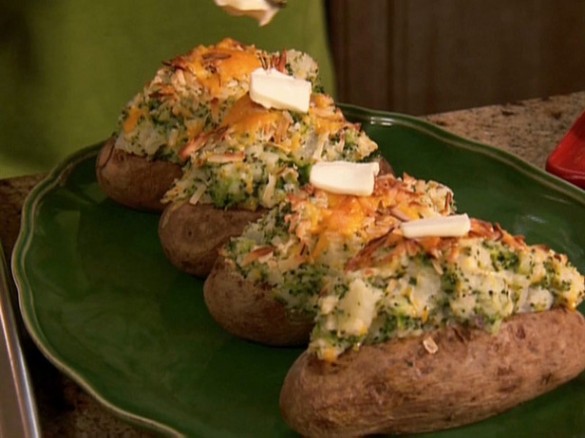 Ingredients:
4 large russet potatoes, each about 3/4 pound each, well scrubbed
1/2 pound broccoli florets, blanched
4 tablespoons softened butter
1/2 cup sour cream
1/2 cup shredded sharp Cheddar, plus extra for topping
1/2 cup shredded smoked Gouda, plus extra for topping
Salt and freshly ground black pepper
Butter, for serving, optional
Directions:
Preheat the oven to 400 degrees F.
Pierce potatoes with fork. Place on center rack of oven and cook for 1 hour.
Remove from oven and let cool slightly. Using a paring knife, cut a canoe-like top out of the potatoes. Scoop the flesh into a large mixing bowl, leaving a 1/2-inch thick wall around the skin.
Add the blanched broccoli to the potatoes. Stir in the butter, sour cream, Cheddar, Gouda, and salt and pepper; and mash until creamy.
Using a small spoon, scoop the filling back into the potatoes. It will be a nice mounded pile of filling. Sprinkle with more of both cheeses on top of the potatoes.
Set the potatoes on a baking sheet and bake for 15 to 20 minutes, until heated through and cheese in melted and gooey. Serve with butter, if desired.
Read more at: food network
Incoming search terms:
resepi baked potato