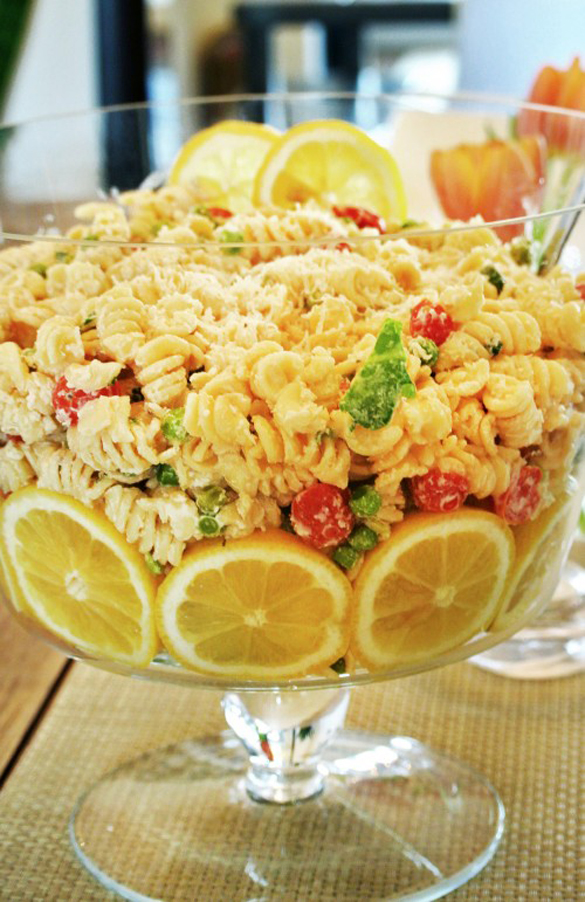 Made a day in advance and served cold
Ingredients:
1 tablespoon olive oil
2 cloves garlic, minced
1 cup heavy cream
1 cup chicken broth
1-2 lemons (juice and zest)
2 tsp kosher salt
1 tsp black pepper
1 pound pasta
1/2 cup freshly grated Parmesan or Romano cheese
– ½-1 bag of baby arugula
– 1 pint grape tomatoes, halved
– 1 10 oz package of frozen peas, thawed
Cook pasta: Boil water and start to cook pasta according to package directions.
Saute garlic: Meanwhile, in a medium saucepan, heat olive oil over medium heat. Cook the garlic briefly (less than 1 minute or so, careful not to burn).
Cook and reduce: Add the heavy cream, lemon juice and zest, chicken broth and salt/pepper. Bring the mixture to a boil, then lower heat. Simmer sauce for about 15 minutes. It will reduce and start to thicken.
Combine: Add the sauce to the cooked pasta. Add the vegetables. Add the cheese at the end.
Serve: Serve with extra cheese, if you like.
View more at jamiekrell.com