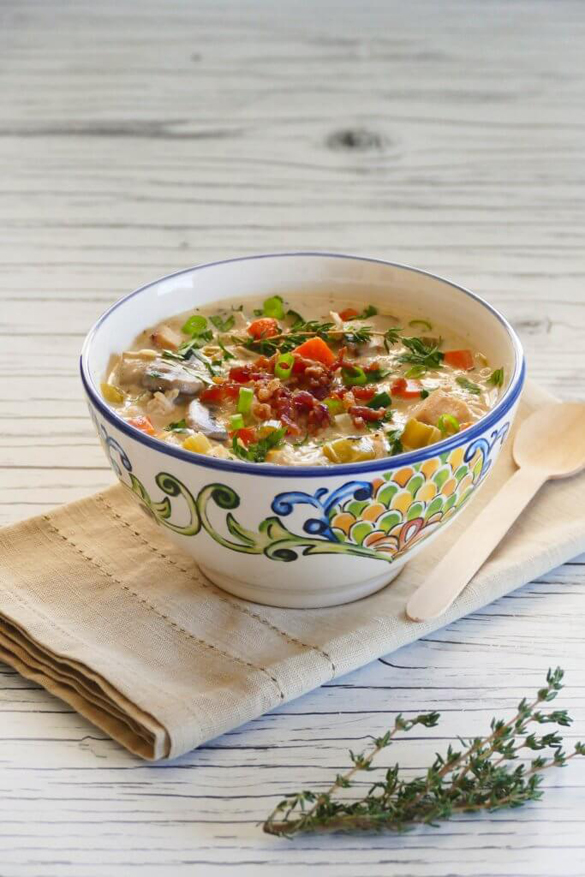 Instant Pot Cream of Chicken Soup is such a simple recipe that you'll never have to use the canned version again! This creamy chicken soup recipe is great for using up leftover thanksgiving turkey or rotisserie chicken. Add rice, pasta and/or more vegetables to make this a substantial meal.
Author: Paint the Kitchen Red
Yield: 6 servings
Ingredients:
2 Tbsp butter
2 cups leeks, sliced thin
1 cup celery, chopped
3/4 cup carrots, diced
1 Tbsp garlic, minced
1/2 tsp dried thyme
1/2 tsp ground black pepper
3/4 tsp salt (or to taste)
1/4 tsp nutmeg powder
1 Tbsp all-purpose flour
1/4 cup dry white wine or dry sherry
1 1/2 cups chicken broth plus up to 1/4 cup more for deglazing
2 cups sliced or quartered mushrooms
2 cups cooked diced chicken (or turkey)
1/4 cup heavy cream
Garnish: scallions, parsley and crumbled bacon
Read more at Paint the Kitchen Red
Find more fancy edibles in our popular Creative edibles or Fancy categories, and if you are looking for inspiration you will definitely find it in Food Art.