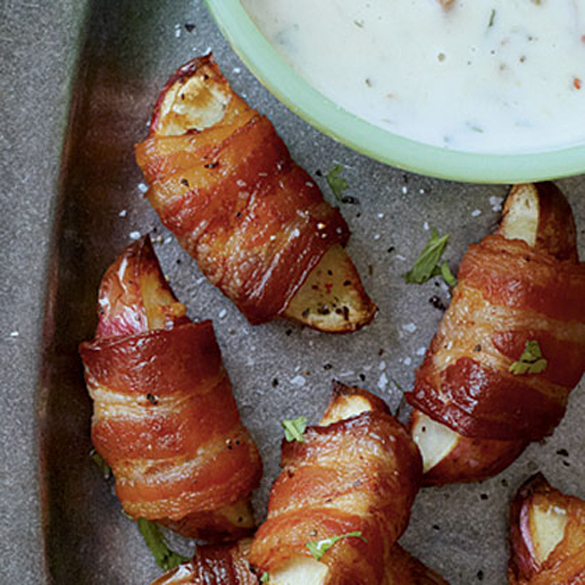 Ingredients:
2 medium-size red potatoes, cut into 8 wedges each
1/2 teaspoon salt
16 center-cut bacon slices
1/2 teaspoon pepper
1/2 cup diced red onion
1 tablespoon canola oil
1 garlic clove, minced
12 ounces queso blanco pasteurized prepared cheese product, cubed
1 (8-oz.) block pepper Jack cheese, shredded
1/2 cup half-and-half
1 (4-oz.) can chopped green chiles
1 plum tomato, seeded and diced
1/4 cup chopped fresh cilantro
Preparation:
1. Place a lightly greased wire rack in an aluminum foil-lined 15- x 10-inch jelly-roll pan.
2. Preheat oven to 425°. Sprinkle potato wedges with salt. Wrap each with 1 bacon slice. Arrange potato wedges in a single layer in prepared pan. Sprinkle with pepper.
3. Bake at 425° for 40 to 45 minutes or until bacon is crisp and browned.
4. Meanwhile, sauté onion in hot oil in a small nonstick skillet over medium-high heat 5 minutes or until tender. Add garlic, and sauté 1 minute. Remove from heat.
5. Combine queso blanco, next 3 ingredients, and onion mixture in a large microwave-safe glass bowl. Microwave at HIGH 2 1/2 minutes; stir and microwave 2 1/2 more minutes or until cheese is melted and mixture is smooth, stirring at 1-minute intervals.
6. Stir diced tomato and cilantro into queso blanco mixture. Serve dip with potato wedges.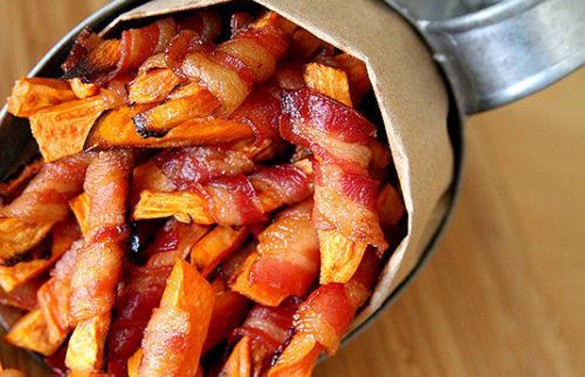 Photo by Cup of Sugar, Pinch of Salt
View more at yummly.com