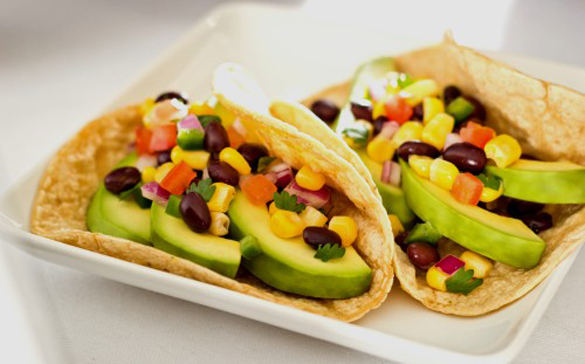 Ingredients:
1 (14-ounce) can black beans, rinsed and drained
1½ cups frozen corn, thawed
½ red onion, small diced
1 roma tomato, seeded and small diced
¼ cup lime juice
1 jalapeno, diced (seeds removed if you prefer a less spicy salsa)
¼ cup chopped fresh cilantro
12 (6-inch) corn tortillas
3 large avocados, peeled, pitted, and sliced
Salt to taste
Instructions:
In a medium bowl, combine the black beans, corn, onion, lime juice, cilantro, and salt. Set aside to marinate.
Place a large, heavy skillet over high heat. Heat the tortillas, one at a time, on the skillet until soft and pliable, about 1 minute per side.
Wrap in a clean kitchen towel to keep warm.
To serve, place and even amount of avocado in each tortilla and season lightly with salt. Spoon on the salsa, draining as you go, then serve.
Via: Daydream Kitchen