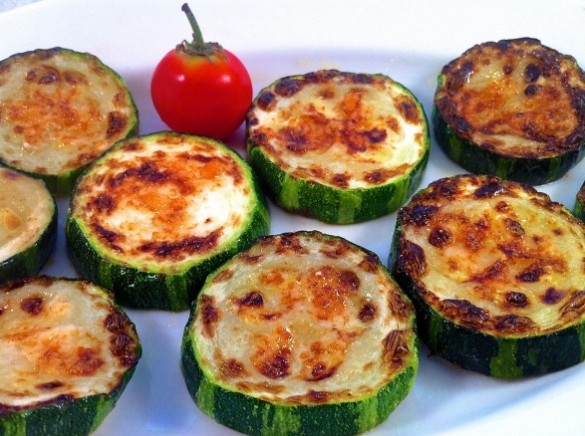 Small to medium-size zucchini are perfect for this simple recipe. They have less moisture than large zucchini and will remain firmer after broiling.
Ingredients:
zucchini, sliced into 1/2-inch-thick rounds or slices
Parmesan cheese, freshly grated
olive oil
Directions:
Line a baking sheet with aluminum foil and coat well with olive oil.
Place the zucchini on the baking sheet, and then brush the tops of the zucchini with olive oil. (I like to spray with an olive oil mister.)
Sprinkle on the Parmesan cheese. You can eyeball this, but a quarter teaspoon per round should be fine.
Broil for 3-4 minutes, or until the cheese starts to brown.
Remove from the oven, flip the zucchini, and sprinkle with a bit more Parmesan.
Broil for 1 minute more or until golden.
Via: fountainavenuekitchen.com