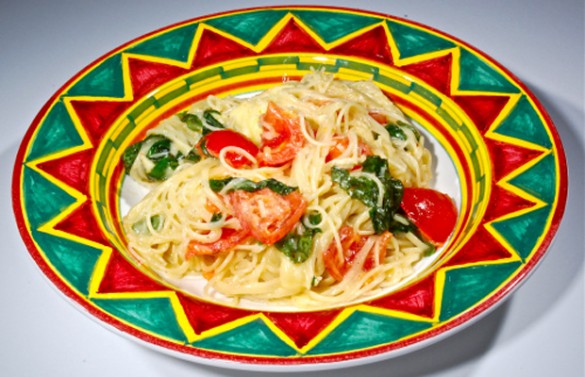 serves 4-6 as an entree, 6-8 as a first course
Ingredients:
4 ripe tomatoes, cut into 1/2 inch cubes
1 pound Brie cheese, rind removed, torn into irregular pieces
1 cup cleaned fresh basil leaves, cut into strips
3 garlic cloves, peeled and finely minced
1 cup best quality olive oil
salt to taste
1/2 tsp freshly ground pepper
1 1/2 pounds linguine (sometimes I use angel hair, because it's Emma's fave)
freshly grated imported Parmesan cheese (optional)
Directions:
1. Combine tomatoes, brie, basil, garlic, 1 cup olive oil, salt and pepper in a large serving bowl. Prepare at least 2 hours before serving and set aside, covered, at room temperature
2. Bring 6 quarts of water to a boil in a large pot. Add the linguine and boil until al dente, about 10 minutes.
3. Drain pasta and immediately toss with the tomato sauce. Serve immediately.