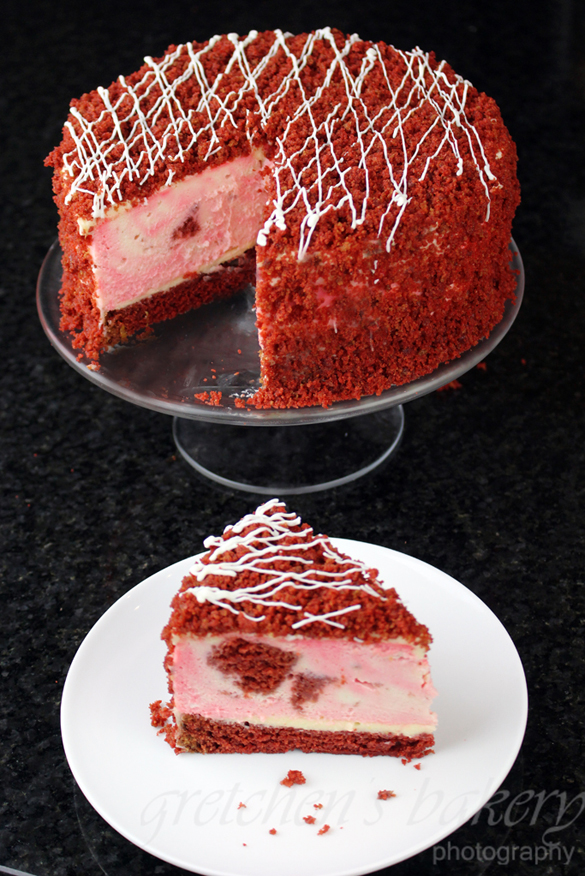 Since I made 7″ cheesecakes, the red velvet cake batter will also be baked into 2 – 7″ cake pans.
One layer will be for the base of the cheesecake (after cooling and unmolding) and the other will be for chunks to go into the batter- so be sure to prepare the red velvet cake recipe first.
Serves: serves 8
Ingredients:
For the Red Velvet Cake
All Purpose Flour 1¼ Cups (156g)
Granulated Sugar ¾ cups (150g)
Baking Soda ½ teaspoon
Salt ¼ teaspoon
Natural Cocoa Powder 1 Tablespoons (6g)
Vegetable Oil ½ cup (60ml)
Almond Milk ½ Cup (237ml)
Ground Flax Seeds 1 Tablespoon (8g)
Hot Water 3 Tablespoons (45ml)
Red Food Color 1-2 teaspoons *gel paste or liquid
White Vinegar 1 teaspoon
Vanilla Extract 1 teaspoon (5ml)
For the Cheesecake Batter
Vegan Cream Cheese 1½ package (12oz) (282g)
Firm Tofu half package (7ounces) (196g)
Vegan Granulated Sugar ¾ cup (150g)
Cornstarch 2 Tablespoons
All Purpose Flour 2 Tablespoons
Salt ¼ teaspoon
Vanilla Extract 2 teaspoons (10ml)
Vegan lactic Acid OR Apple Cider Vinegar 2 teaspoons (10ml)
Earth Balance 2 Tablespoons (28g)
The cream cheese icing is an entirely option recipe, you do not have to make this at all unless you want it to look just like mine!
Vegan Cream Chees Icing
Ingredients:
Vegan Cream Cheese 2 Tubs (2cups) (454g)
Vegan Butter 1 stick (½ cup) (112g)
Confectioner's Sugar 1½ cups (180g)
Vanilla Extract 1 teaspoon
Apple Cider Vinegar *optional 1 teaspoon – see note above
Read more at gretchensveganbakery.com