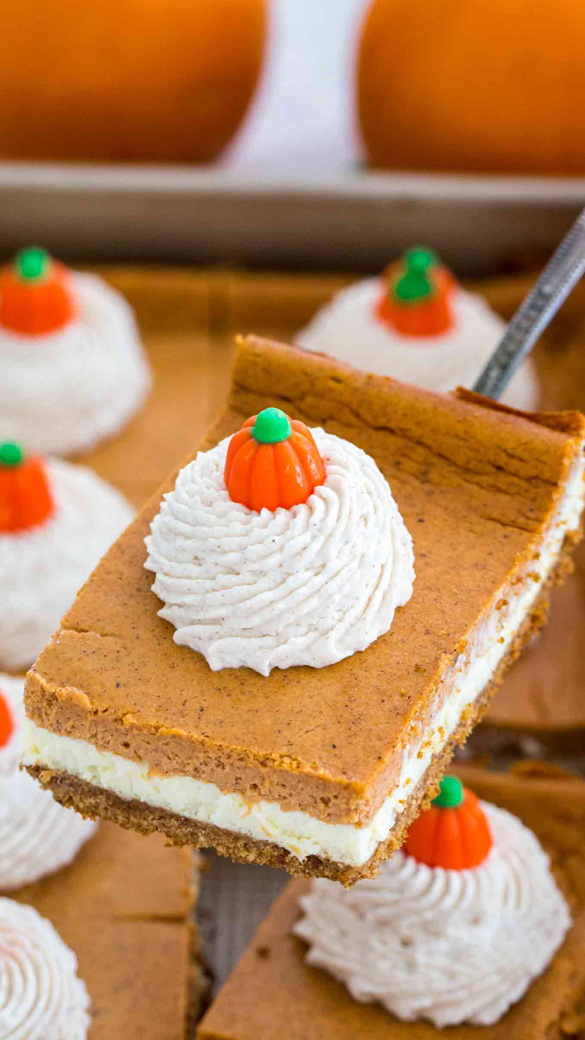 Pumpkin Cheesecake Bars are luxuriously creamy and rich, with lots of pumpkin flavor. Topped with a hefty amount of homemade cinnamon whipped cream.
Ingredients:
Crust:
3 cups graham cracker crumbs
1/3 cup brown sugar
1 teaspoon ground cinnamon
1 teaspoon ground nutmeg
1/4 teaspoon ground cloves
1 stick (1/2 cup) unsalted butter melted
Cheesecake Batter:
4 packages (8 oz each) cream cheese at room temperature
1 1/2 cup granulated sugar
2 tablespoon cornstarch
4 large eggs at room temperature
1/2 cup heavy cream at room temperature
3/4 cup sour cream at room temperature
1 teaspoon vanilla extract
Pumpkin Layer:
1 can ( 15 oz) pumpkin puree
1 teaspoon ground cinnamon
1/2 teaspoon ground nutmeg
1 teaspoon pumpkin spice optional
Cinnamon Whipped Cream:
2 cups heavy whipping cream cold
1/2 cup granulated sugar
1 teaspoon vanilla extract
1 teaspoon ground cinnamon
Read more at sweetandsavorymeals.com
Find more fancy edibles in our popular Creative edibles or Fancy categories, and if you are looking for inspiration you will definitely find it in Food Art.