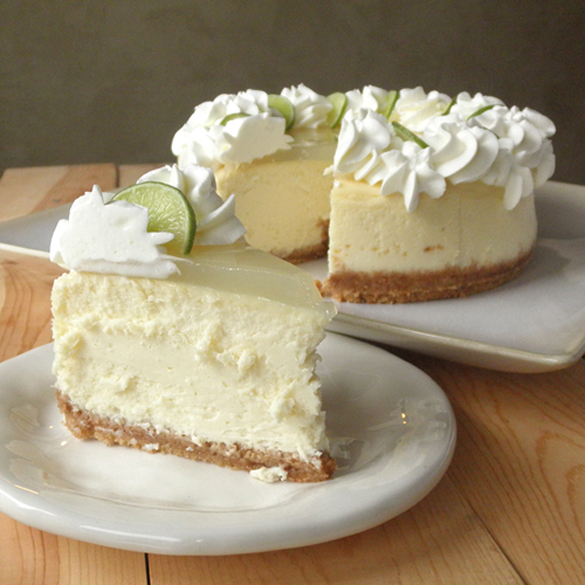 Key Lime Cheesecake – adapted from cheesecakefactorymenu.com
Ingredients:
Crust
1 cup graham cracker crumbs
1/3 cup butter, melted
1 tablespoon sugar
Filling
2 1/2 sticks (20 oz. total) cream cheese at room temperature

2/3 cup sugar
1/2 cup sour cream at room temperature
3 tablespoons flour
3 eggs at room temperature
1 1/2 teaspoons vanilla extract
1/4 cup heavy cream
3 tablespoons key lime juice (6 tablespoons if using regular lime juice)
Glaze (adapted from Creative Culinary)
1/4 cup sugar
3/4 tablespoon cornstarch
1/4 cup water
2 tablespoons key lime/lime juice
Topping/Garnish
1 cup heavy cream, whipped with 2 tablespoons powdered sugar (or make stabilized whipped cream)
Sliced key limes/limes
Directions:
Mix graham crackers, melted butter, and sugar in a medium bowl or plastic bag. Pour into a 7-inch spring form pan that's been coated with non-stick cooking spray. Carefully spread crumb mixture evenly over the bottom and press firmly all over.
Put a layer of heavy duty aluminum foil on the bottom and up the sides of the spring from pan as a protective barrier to keep the water from getting into the cheesecake. I also like to put my pan into an oven-proof plastic turkey bag (top open) and then put it in the water bath, just to ensure I don't get a soggy cheesecake.
Preheat oven to 475 degrees Fahrenheit. Place a large shallow pan filled with 1 inch of water into the oven to create the water bath.
In a large bowl (or the bowl of a standing mixer), beat the cream cheese with an electric mixer on low speed. Gradually beat in the sugar, sour cream, flour, and vanilla until smooth. Scrape down the sides of the bowl. Add the eggs, 1/4 cup heavy cream, and lime juice and continue to beat until the mixture is smooth and creamy.
Pour the cheesecake filling into the spring form pan. Place the pan into the water bath in the oven. After 8 minutes, reduce heat to 350 degrees and bake for another 40 minutes, or until filling is puffed, set, and light brown. Remove from oven and from the water bath, and allow to cool on a wire rack. Once cooled to room temperature, take the foil off, put a paper towel over the pan, and then cover with the foil (you can use a new piece of foil, but reusing is just as good). Refrigerate overnight.
For the glaze, combine the sugar, cornstarch, water, and lime juice in a small pan. Mix until smooth. Bring to boil over medium heat, stirring constantly. Cook for 3 minutes. Cool/chill until cool, but not set.
Pour cooled glaze into the center and spread evenly with an offset or rubber spatula. Refrigerate until glaze is cold and firm. Pipe whipped cream around the top of the cheesecake, if desired. Garnish with lime slices. Refrigerate until ready to serve.
Makes about 8 servings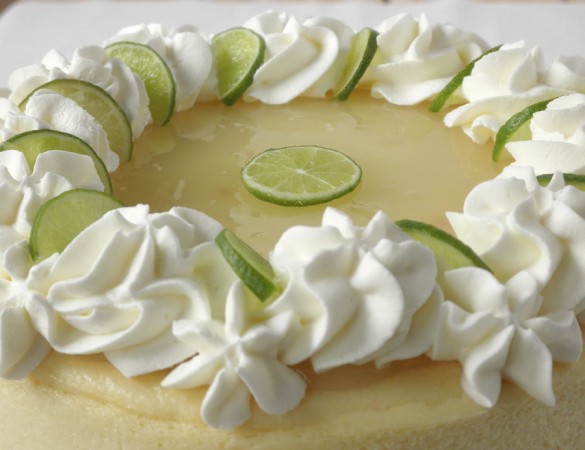 View more at food-pusher.com