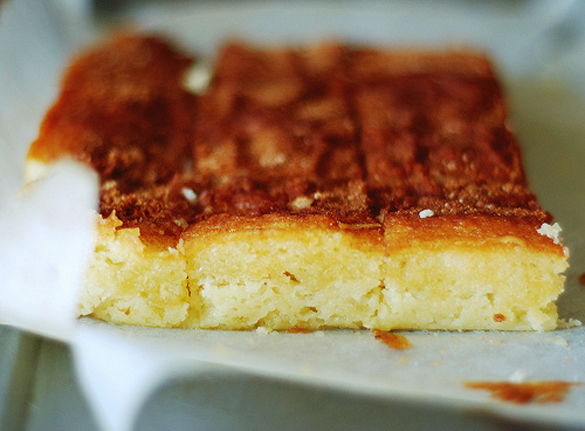 Ingredients:
for the base:
160g (1 1/2 stick) vegan butter
140g (1 c.) plain flour
40g (1/4c.) white sugar
1/2 tsp salt
for the gooey layer:
30ml (1/8c.) golden/maple syrup
60ml (1/4c.) soy milk
1 tsp vanilla extract
85g (3/4 stick) vegan butter
110g (1/2 c.) white sugar
1/4 tsp. salt
75g (2/3c.) plain flour
for the topping:
1 Tbsp white sugar
1 tsp. ground cinnamon
Directions:
1. Heat oven to 180C. Line an 8×8 square cake tin.
2. For the base: Beat the butter and sugar together until smooth, then stir in the flour and salt. To make a smooth dough, you'll probably need to use your fingers, unless you're in a better equipped kitchen than I and have a good stand mixer. Once it's a soft dough without stray bits of flour, press into the bottom of the prepared pan in an even layer, and smooth with the back of a spoon or offset spatula. Set aside.
3. For the gooey layer: Beat butter, sugar, vanilla and salt til light and fluffy. Add half the milk, then mix again, then half the flour and mix; the rest of the milk; the rest of the flour; and finally the syrup. What a hassle, I apologise. When all of the flour has been mixed in, spoon it over the cookie base and spread with the back of a spoon or offset spatula.
4. For the topping: mix the sugar and cinnamon in a tiny dish and sprinkle over the top of the gooey layer as evenly as you can.
5. Bake for around 25 minutes at 180C – 20 minutes was not quite enough for mine, but I was too lazy to put them back before eating them – until bronzed on top. Let cool completely before cutting into 16 squares.
View more at papillon.blogspot.com