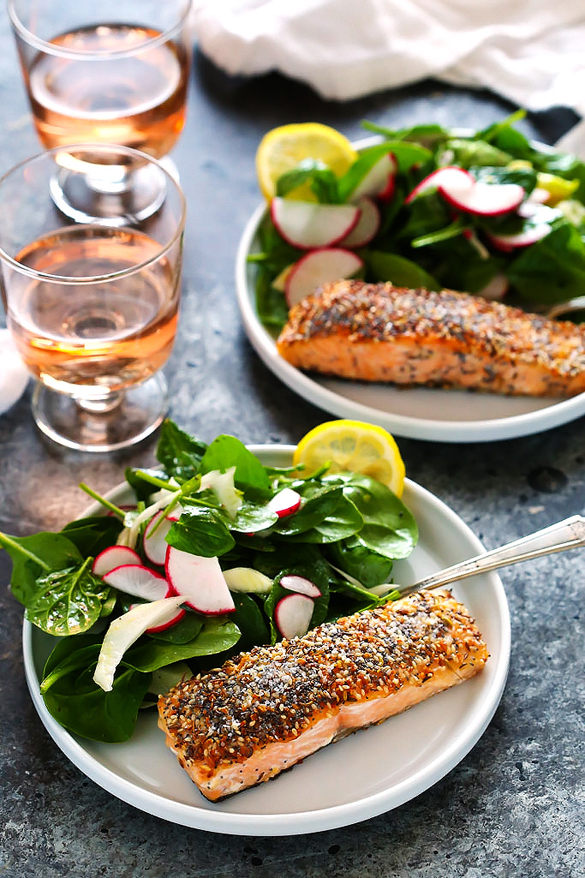 This "Everything" Crusted Salmon coats salmon filets in a seasoning combined of all the ingredients you would find on an "everything" bagel. The salmon filets are quick seared and then finished off in the oven for a delicious dinner that's ready in 20 minutes.
Servings: 4 people
Author: Inspired by Green Chef
Ingredients:
4 (6-ounce) salmon fillets, skin on
Salt and pepper
"Everything" seasoning
1 ¾ tsp dehydrated garlic, minced (or ½ tsp garlic powder)
1 tsp poppy seeds
1 tsp white sesame seeds
½ tsp caraway seeds
¼ tsp fennel seeds
1 ½ Tbsp extra virgin olive oil
Serving suggestions: Serve over quinoa, rice or spinach.
Wine Pairing for "Everything" Crusted Salmon:
Rosé – This Louis Jadot Rosé is floral and fruity with hints of fresh red currants and raspberries and stands up to the spices in this dish wonderfully.
Read more at platingsandpairings.com