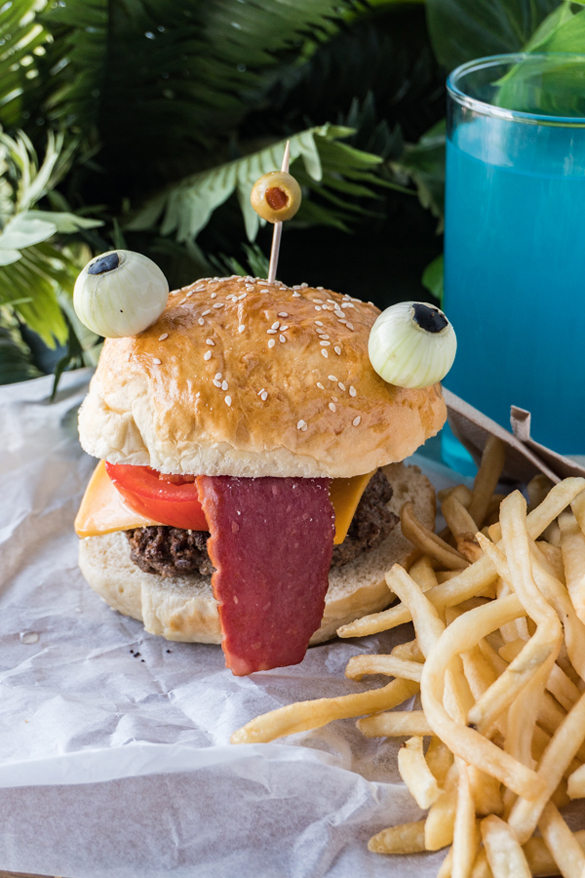 Who else loves Fortnite! This Durr Burger is easy to make and perfect for every Fortnite party!
Servings 8 burgers
Author Lisa
To make a Durr Burger all you need to do is:
Slice your hamburger bun
Layer on your hamburger, cheese and tomato
Add turkey bacon (regular bacon will work too!)
Hollow out two pearl onions and stick small slices of black olives in them. Then attach them to the burger top with toothpicks.
Finish it off with a green olive on top and you have yourself a Durr Burger!
Ingredients:
For the burgers:
2 lbs hamburger
2 eggs
2 tbs garlic powder
2 tbs liquid smoke
2 tbs Worcestershire sauce
1 tbs pepper
1 tbs salt
Additional items needed
24 Tooth picks
8 Green olives stuffed with pimentos
Black olives
8 slices yellow cheese
8 slices turkey bacon or pork
3 large tomatoes
16 pearl onions
Read more at atablefullofjoy.com
Find more fancy edibles in our popular Creative edibles or Fancy categories, and if you are looking for inspiration you will definitely find it in Food Art.