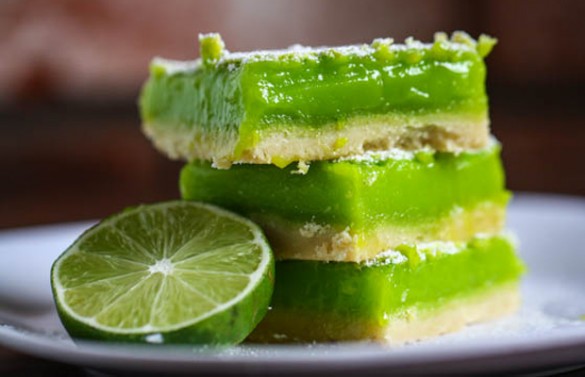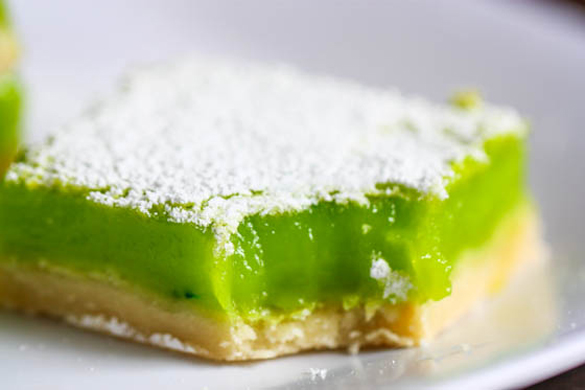 makes about 12 squares
Ingredients:
for crust—
1 cup flour
1/4 cup powdered sugar
1/4 tsp salt
1 stick unsalted butter, cold
for creamy lime filling—
2/3 cup fresh lime juice (from about 6 limes)
1 1/4 cup sugar
1/4 cup flour
4 eggs
2 tsp lime zest
green food coloring (enough to produce desired green color)
powdered sugar for serving
Directions:
Preheat oven to 350.
To make the crust, combine the confectioners sugar, flour and sea salt in a large bowl. Cut in the cold butter and work with your fingers until the mixture resembles cornmeal. Press into a greased nine inch pan and bake for 20-25 minutes, or until golden.
To make the filling, whisk together the granulated sugar and flour in a bowl. Add the eggs, one at a time, whisking well after each addition. Add the zest, lime juice and enough green food coloring to produce desired green color (but not enough to make your filling neon! watch out) and mix until everything is smooth and combined.
Pour filling over hot crust and return to oven to bake for another twenty minutes. When done, the filling will no longer jiggle. Let cool completely in the pan before slicing and dusting with powdered sugar.
Time:
1 hour
Via: eatliverun.com