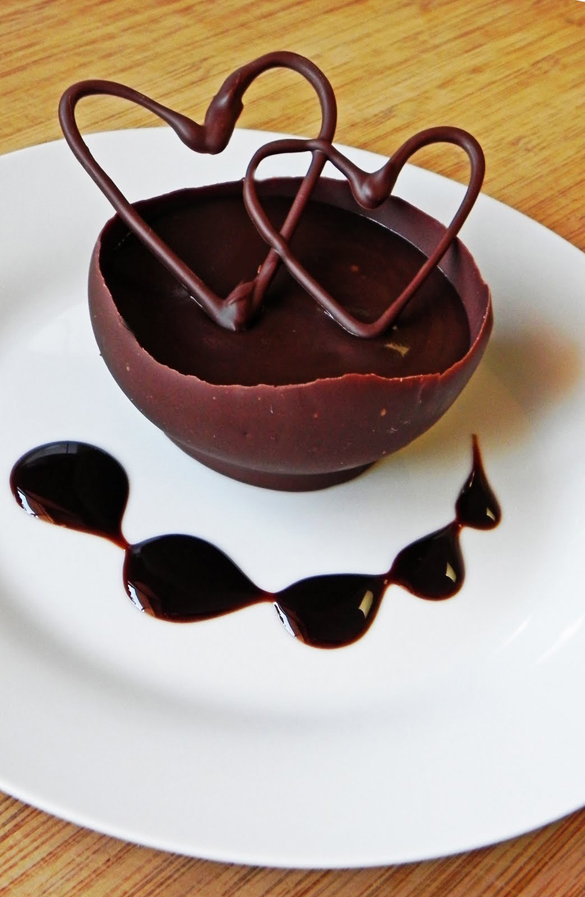 If you didn't want to make the chocolate cups, you could serve them in small bowls or even shot glasses.
Ingredients:
– 3 T brewed coffee
– 3 T instant espresso coffee powder
– 1 C whipping cream
– 4 oz bittersweet chocolate, broken up
– 3 T superfine sugar
– 1 tsp pure vanilla extract
1. in a small saucepan, combine the brewed coffee & instant espresso powder. stir in the cream. place over medium high heat until the cream is hot.
2. add the chocolate & sugar & stir until chocolate is melted. stir in the vanilla.
3. pour into a bowl & chill for 3 hours, or until firm.
For the chocolate cups, watch this video:
For the chocolate hearts, i used the left over tempered chocolate from the cups, transferred it to a squeeze bottle, & freehanded some hearts.
Just make sure you do all of this chocolate work on a baking sheet lined with parchment paper so you can refrigerate it & pull them off easily.
DO NOT:
pour the hot mousse into the chocolate cups.
you'll melt them, silly!
wait for the mousse to cool & transfer it to the cups.