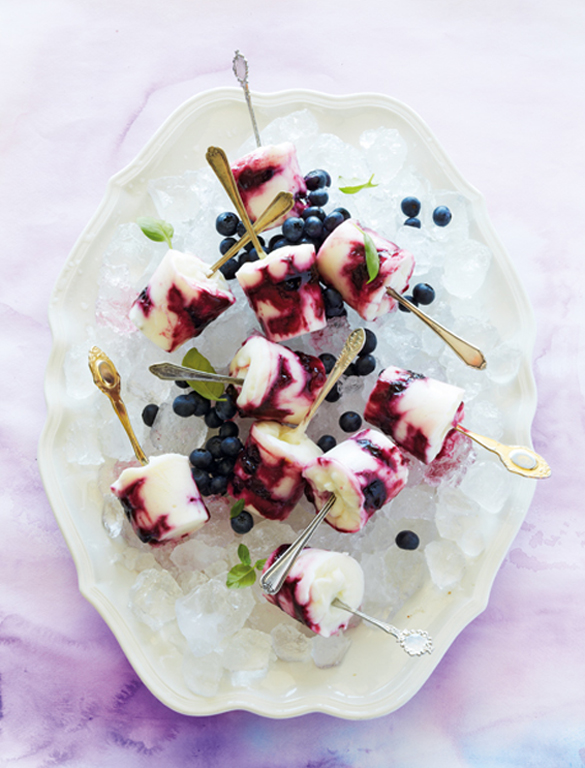 Makes: 8-10
Preparation time: 15 minutes, plus chilling and freezing time
Cooking time: 10 minutes
• 50ml sugar
• 150g blueberries
• 1kg tub plain yoghurt
1. Heat the sugar and 50ml water in a small saucepan. Stir until the sugar has dissolved. Add the blueberries and bring to the boil. Reduce the heat and simmer for 5 minutes until the syrup has thickened. Set aside to cool then refrigerate for 30 minutes. Place the moulds in the fridge too. (We used metal moulds and small yoghurt containers.)
2. Pour the yoghurt into an ice cream machine and churn until thick and almost frozen. If you don't have a machine, pour the yoghurt into a shallow container and freeze for 30 minutes. Use a fork to break up the ice crystals. Repeat two or three times.
3. Spoon some of the blueberries into the moulds, top with a layer of yoghurt, then add more blueberries. Continue layering until the moulds are filled. Set in the freezer for 15 minutes.
4. Press spoons or ice cream sticks into the centre. Freeze for 6 hours or overnight until frozen solid. To remove from the moulds, hold in boiling water for three seconds and pull out by the spoon or stick.
Via: ideasmag.co.za