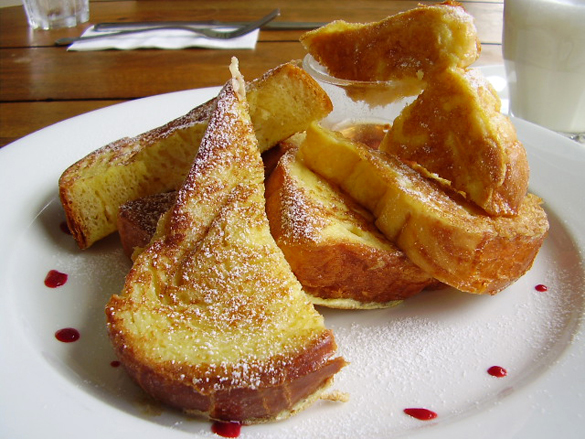 Ingredients:
3 tbs butter, melted
1 1/2 cup milk
3 eggs
2 tbs confectioner's sugar
1 tsp vanilla
1/2 tsp ground cinnamon
1/8 tsp ground nutmeg
6 slices egg bread, 1″ thick
Cooking Instructions:
1. Heat oven to 475 degrees.
2. Drizzle melted butter onto 17 x 15-inch jelly roll pan.
3. Whisk together milk, eggs, confectioners' sugar, vanilla, cinnamon and nutmeg in large bowl.
4. Dip both sides of bread into milk mixture; place on prepared pan.
5. Pour any remaining milk mixture over bread. Let stand 20 minutes, turning bread over a couple of times.
6. Bake in 475 degree oven, turning once, until puffed and golden, for about 15 minutes.
View more at recipeselect.com