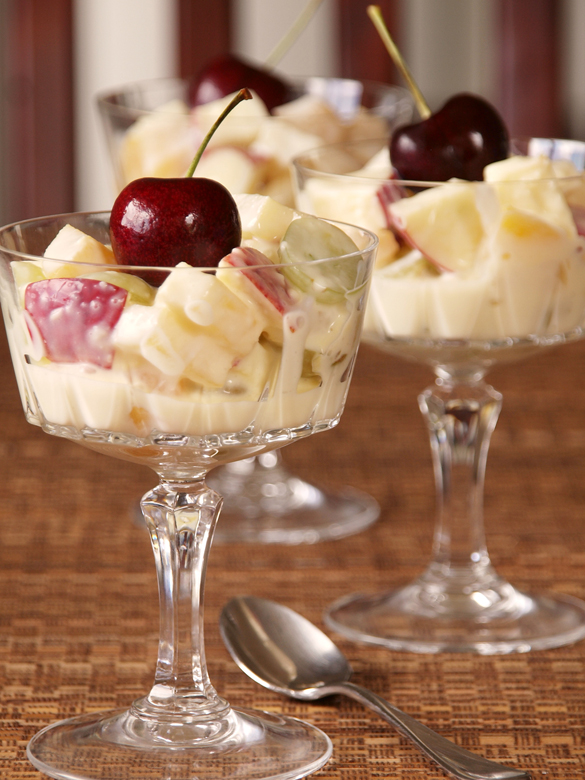 Ambrosia is a type of fruit salad where mixed fruits are served with whipped cream (or whipped topping), sour cream, or yogurt. Fruit salad also called Macedonia on the other hand is a similar dish but instead of a creamy dressing it is served with fruit juices or light syrup.
Believe it or not this is a popular dessert in the Philippines even we don't usually grow fruits like apples, grapes and peaches but due to the Americans canned fruit salad this was been a part of our diets since the 1950's. We have several versions of this dessert and the most popular one is the buko salad where fruit cocktails are mixed with coconut, condensed milk and cream, another version is the ambrosia where we use fruit cocktails (pineapples, pears, apples, peaches and grapes) and like buko salad it is served with condensed milk and cream and finally we have the tropical fruit cocktail variation where tropical fruits are used such as papaya, bananas and pineapples.
A really simple dessert but for this post we will be using fresh fruits done in the Filipino way where it will be served with condensed milk and cream. How about you do you have variations of this classic?
Ingredients:
2 red apples, cubed
1/2 pineapple, cubed
2 peaches, sliced
2 nectarines, sliced
300g seedless green grapes, cut in half
cheries, for topping
3/4 cup condensed milk
1 cup whipped cream
Method:
1. In a large bowl mix together condensed milk and whipped cream.
2. Toss in all the fruits, chill then serve.
Via: angsarap.net
Incoming search terms:
ambrosia fruit salad