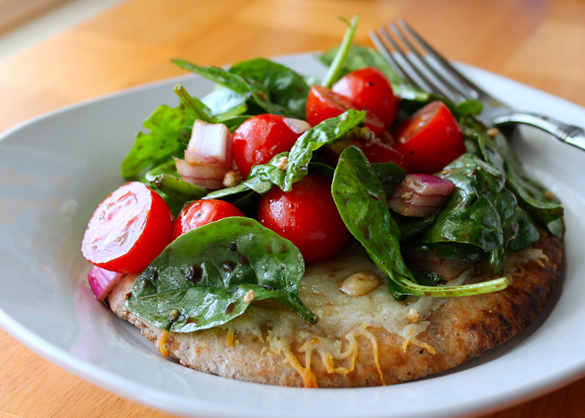 Author: Skinny Mom's Kitchen
Serves: 1
Ingredients:
1 whole wheat pita
2 teaspoons olive oil
1 garlic clove, minced
¼ cup mozzarella cheese
1 ½ cups baby spinach
5 grape tomatoes, halved
2 slices red onion, diced
1 tablespoon crumbly blue cheese
1-2 tablespoons balsamic vinaigrette (I use Newmans Own)
Instructions:
Heat oven to 350 degrees
Spread olive oil and garlic on pita. Sprinkle cheese over top and cook for 10 – 15 minutes or until cheese is melted.
While pizza is cooking place spinach, tomatoes, onion, crumbly blue cheese, and balsamic vinaigrette in a medium bowl and toss.
After pizza is done place salad on top and serve.
Notes:
This recipe comes together so fast there is no need to make any of the ingredients ahead of time.
Nutrition Information:
Serving size: 1, Calories: 476, Fat: 28, Carbohydrates: 41, Fiber: 9, Protein: 20
View more at Skinny Mom's Kitchen