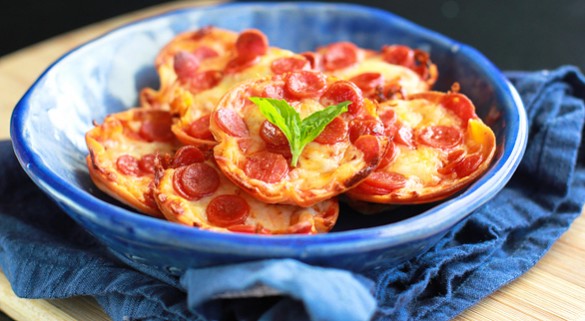 Italy meets Mex in this fun little tortilla pizza mash-up!
Ingredients:
– 3 Old El Paso flour tortillas
– 1 (15 ounce) can Muir Glen pizza sauce
– 1 1/2 cups mozzarella cheese, shredded
– 3/4 cup mini pepperoni
Directions:
1. Preheat oven to 400 degrees. Open the can of pizza sauce, empty the sauce from the can, and rinse the can out.
2. Using the cut edge of the pizza sauce can, cut four rounds from each tortilla. Press each round into a lightly-greased muffin tin.
3. Place a tablespoon of Muir Glen pizza sauce into the center of each tortilla round.
4. Sprinkle cheese on top of the sauce on each tortilla round.
5. Top each pizza with mini pepperoni rounds.
6. Bake in preheated oven for 10-12 minutes, or until cheese is bubbly. Remove and cool before using a fork to transfer mini pizzas from muffin tin to a serving plate.
7. Serve and enjoy!
Recipe by CheekyKitchen