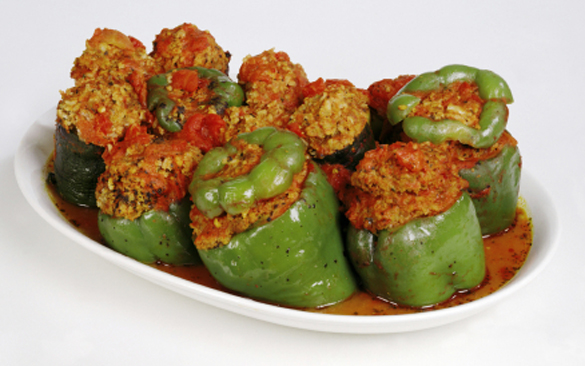 Ingredients:
1 package ground chicken
4 bell peppers – scooped out (keep the tops)
uncooked white rice (appx 1 TBSP per pepper)
1 onion
1 handful shredded carrots
1 can tomato paste
1 can pureed tomatoes (with juice)
2 splashes red wine
few splashes chicken stock
3 cloves garlic- minced
splash olive oil
pinch nutmeg
handful of fresh parsley – chopped
S&P
Directions:
Sauté ground chicken in a little olive oil until no longer pink (don't overcook because you'll be baking again).
Remove chicken from heat, drain, and set aside.
Add garlic, chopped onion, shredded carrots to pan with a little more olive oil and a splash of chicken stock and sauté for a few minutes. Add wine and let cook off for a minute or two. Add tomato paste, sugar, tomatoes, spices, S&P.
Cook for a few minutes on medium and then turn off.
Return meat to sauce and mix thoroughly.
Scoop out peppers and save tops.
Preheat oven to 350.
Put a thin layer of sauce on the bottom of a baking pan and place peppers inside.
Put a tablespoon of rice into each pepper and pour a bit of chicken broth in each pepper.
Scoop sauce into each pepper and then pour remaining sauce on top of entire dish.
Loosely cover with foil and bake for 1 hour.
If peppers aren't done to your liking, remove cover and cook a bit longer.
View more at mykitchenchaos.com