---
---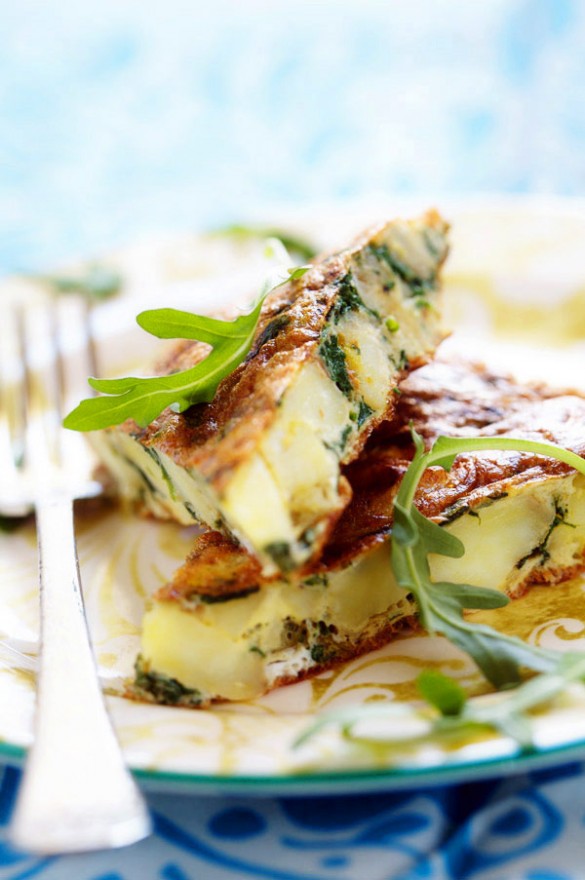 Ingredients:
4 1/2 ounces (4 packed cups) baby spinach leaves
6 tablespoons olive oil
3 small Yukon Gold potatoes (10 ounces total), peeled and diced
1 leek (white part only) finely sliced
5 eggs
2 tablespoons chopped fresh chives
1/2 teaspoon ground cumin
Directions:
1. Bring a large saucepan of salted water to a boil. Add the spinach and cook for 1 minute. Drain, rinse with cold water, and with your hands, squeeze out all the excess water. Chop the spinach finely; set aside.
2. In an 8-inch nonstick skillet, heat 3 tablespoons of the olive oil over medium heat. When it is hot, add the potatoes and leek. Cook, stirring often, for 8 minutes or until the potatoes are tender. Remove from the skillet.
3. In a bowl, whisk the eggs with salt and pepper. Add the spinach, potato mixture, chives, and cumin.
4. In the skillet, heat 2 tablespoons of olive oil over medium heat. When it is hot, add the egg mixture. Cook over medium-low heat, without stirring, for 5 to 6 minutes or until the top is still slightly runny but the bottom is set.
5. Run a knife or rubber spatula around the edges of the tortilla and slide it onto a plate. Cover it with another plate. Hold the plates tightly and invert them. Add 1 tablespoon of oil to the skillet. Slide the tortilla back onto the skillet. Cook for 5 or 6 more minutes or until the bottom is set. Cut in wedges or into smaller pieces as finger food. Serve warm or at room temperature.
Incoming search terms:
resepi biskut marie cheese
---