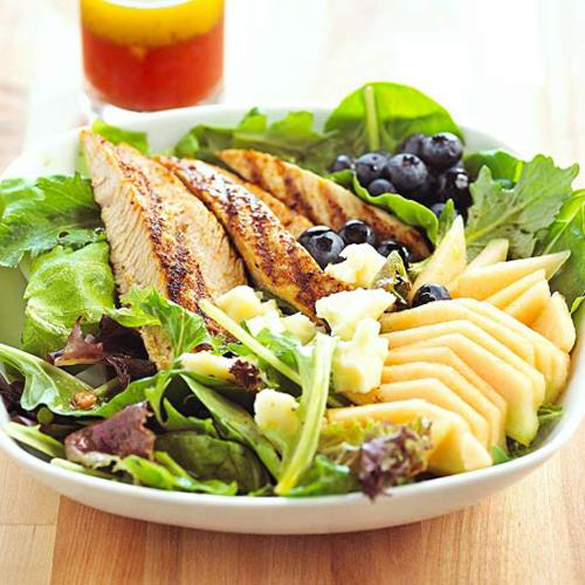 Ingredients:
2 turkey breast tenderloins, split in half horizontally (about 1 pound)
1 tablespoon olive oil
1 1/2 teaspoons Cajun seasoning
6 cups torn mixed greens
1 1/2 cups sliced cantaloupe
1 cup fresh blueberries
Crumbled Farmers Cheese (optional)
Purchased Salad Dressing of your choice
Directions:
1. Brush turkey pieces with olive oil. Sprinkle with Cajun seasoning. For a charcoal grill, grill turkey on the rack of an uncovered grill directly over medium coals for 12 to 15 minutes or until turkey is no longer pink (170 degrees F), turning once halfway through grilling. (For a gas grill, preheat grill. Reduce heat to medium. Place turkey on grill rack over heat. Cover; grill as above.) Slice turkey.
2. Arrange greens on a serving platter along with the turkey, cantaloupe and berries. Top with cheese and salad dressing. Makes 4 servings.