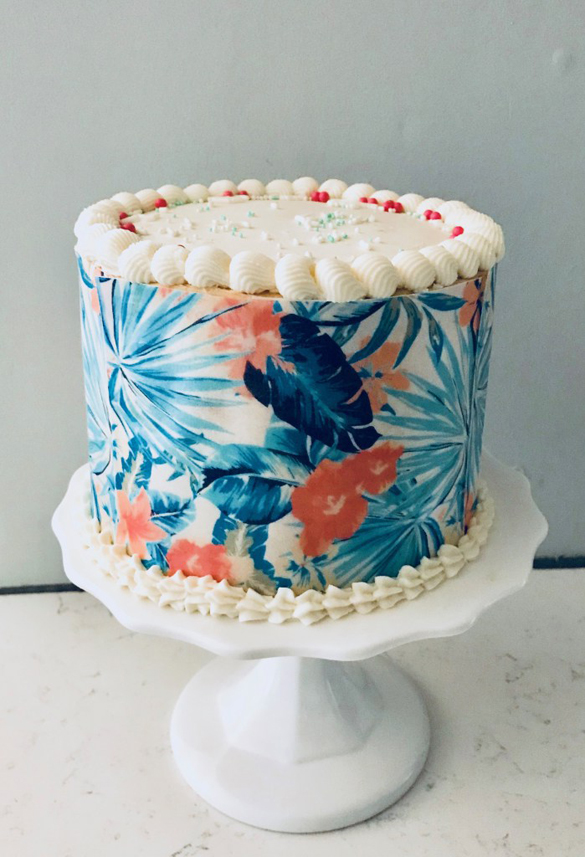 Ingredients:
For tropical cake:
makes one 3-layer, 6-inch cake
1 1/3 cup all-purpose flour
1/2 cup coconut flour
1 cup granulated sugar
2 tsp baking soda
1 tsp salt
1 tsp cardamom
2 extra large eggs
1/2 cup vegetable oil
1 1/3 cup milk
1 ripe banana
1 cup pineapple, small dice
For roasted white chocolate:
12 oz white chocolate
For buttercream:
5 oz egg whites
1 cup granulated sugar
12 oz roasted white chocolate, melted
3 sticks unsalted butter
pinch salt
1 tsp vanilla extract
For edible printing:
Edible printing is just like having a regular printer but you need special equipment:
1. a compatible printer
2. edible ink (food coloring)
3. wafer paper (you can get this in different colors as well)
4. icing sheets – these are different from wafer paper as they have a paper backing that you peel off before sticking the cake or cookie surface you are planning on decorating. they are also more expensive versus the wafer paper as well.
Read more at sugarbyalyx.com
Find more fancy edibles in our popular Creative edibles or Fancy categories, and if you are looking for inspiration you will definitely find it in Food Art.