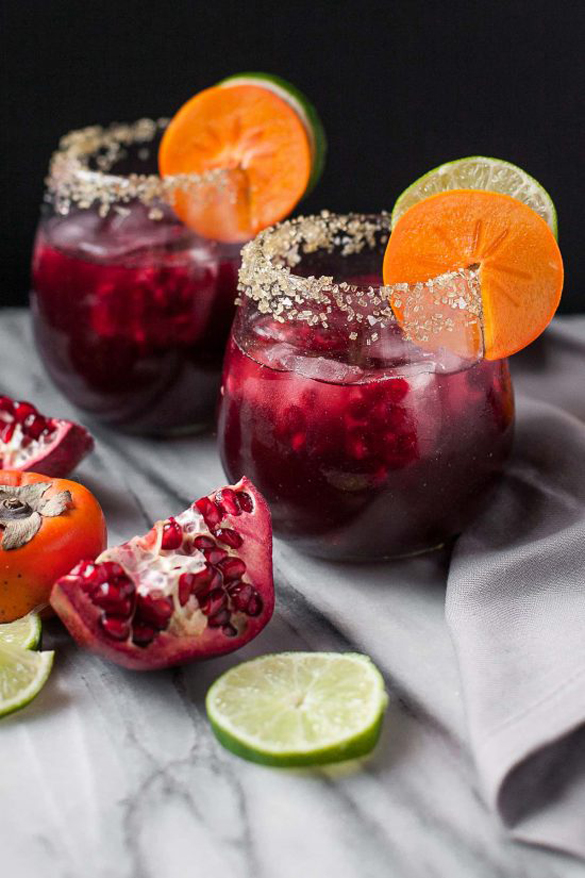 These festive pomegranate vanilla bean margaritas are sweet and just a tad sour, with extra richness thanks to the vanilla.
Author: Becky Winkler
Serves: 1 drink
Ingredients:
For the honey vanilla simple syrup (makes enough for 6+ drinks):
½ cup water
½ cup honey
1½ teaspoons vanilla bean paste*
For each margarita:
1 tablespoon raw sugar + 2 pinches of sea salt, for rimming the glass
¾ cup pomegranate juice
1 tablespoon orange juice
1 teaspoon lime juice
1-2 tablespoons honey vanilla simple syrup (recipe below), or to taste
1 shot tequila, or to taste
¼ teaspoon vanilla extract
Pomegranate or regular ice cubes**
Slices of lime and/or persimmon, for garnish
Notes
*You can substitute seeds scraped from 1 vanilla bean plus ½ teaspoon vanilla extract.
**To make pomegranate ice cubes, fill an ice cube tray about halfway with arils from half a large pomegranate. Fill the rest of the way with water and freeze.
Read more at acalculatedwhisk.com