Makes 3 Pizzas. Serves 3-4
Ingredients:
1 pound lean ground beef
1 (1 ounce) packet taco seasoning
1/2 cup water
6 medium-size flour tortillas
1 (16 ounce) can refried beans
1 (16 ounce) can red enchilada sauce
1 cup shredded cheddar cheese
1 cup shredded pepper-jack cheese
1 tomato, diced
1 green onion, diced
1 small can sliced olives
Directions:
Preheat oven to 375 degrees F. Take 2 baking sheets and spray them with non-stick spray. Place 3 tortillas on each baking sheet. Place in the oven and bake for 5 minutes, carefully flip tortillas over while they're still in the oven (*don't burn yourself please*) and then bake another 5 minutes to crisp on the other side. You want tortillas a slight golden color and crispy. Remove from oven and set aside.
Meanwhile, cook the ground beef in a large skillet over medium-high heat. Drain grease. Add taco seasoning and water. Bring mixture to a boil, then reduce heat to medium-low. Stir and simmer for 10 minutes. Remove from heat.
In a microwave-safe bowl, heat the refried beans until warmed through. Spread a thin layer of beans on one tortilla. Top with 1/3 of the meat mixture. Place another tortilla on top of the meat. Spread 3 Tablespoons of enchilada sauce on top of the top tortilla. Sprinkle with some cheddar cheese and pepper-jack cheese. Add a few dices of tomato, green onion and olives.
Repeat process with the remaining tortillas. You will have 3 Mexican pizzas total.
Place pizzas on the baking sheet and bake for 10-12 minutes, or until cheese is melted and bubbly. Remove from oven and let stand 5 minutes before slicing and serving.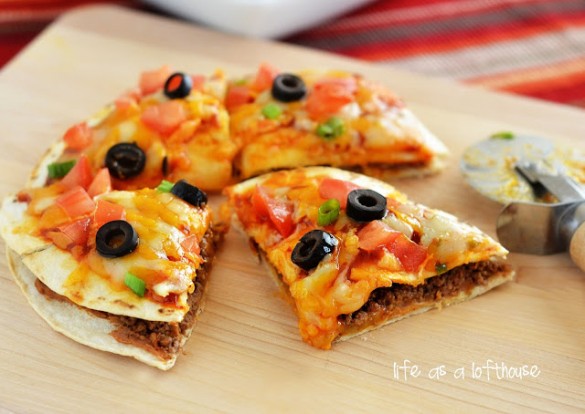 View more at Life as a Lofthouse