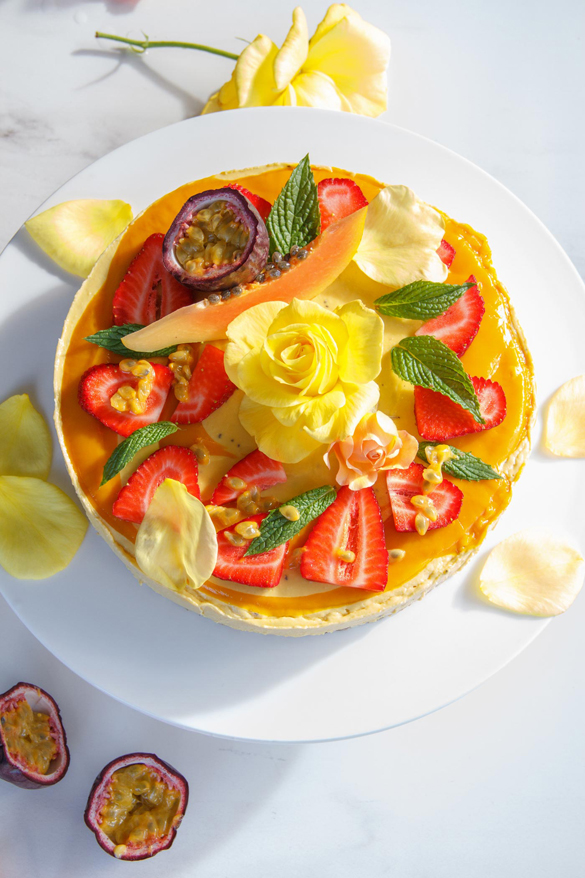 This raw Mango and Passionfruit Celebration Cake is like summer in your mouth. Vegan and refined sugar free.
Fills a 9 inch cake tin.
Author: Lauren Glucina, © Ascension Kitchen
Ingredients:
Base:
1¼ cups coconut flakes
¾ cup rolled oats (almonds or cashews as a substitute)
8 soft Medjool dates, pitted (mine came to 133g)
2 tablespoons coconut oil, liquefied
Zest of 1 lime
Pinch of coarse sea salt
Filling:
2½ cups cashews, soaked in water for 2 hours then drained*
½ cup lime juice
¾ cup rice malt syrup, or preferred liquid sweetener (start with half a cup – then add more to taste, this really depends on the sweetness of your fruit)
1½ cups fresh mango (pack the cups super tightly or use heaped cups)
¼ cup fresh passionfruit pulp
½ cup coconut oil, liquefied
2 tablespoons cacao butter, liquefied
Pinch of coarse sea salt
*The longer you soak the cashews, the softer and easier they are to blend, 2 hours in the minimum, you can soak up to 8 hours.
Topping:
Fresh mango, papaya, passionfruit
Read more at ascensionkitchen.com