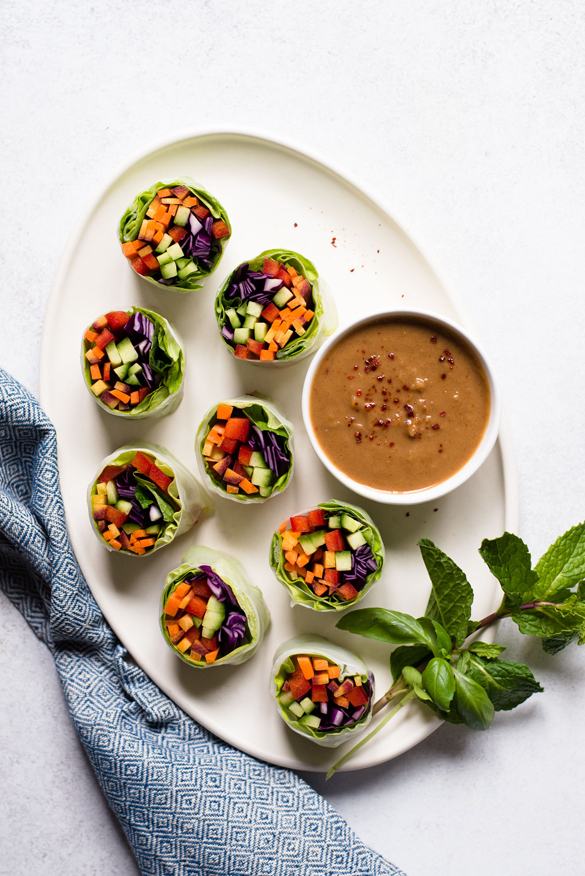 Vegetable Spring Rolls with Peanut Sauce – a healthy light appetizer or meal!
I used butter lettuce because the shape of the outer leaves easily cover a large surface area of the rice paper. The color of butter lettuce also looks more vibrant.
It's very easy to double up the recipe and make a larger batch for parties.
Author: Lisa Lin
Yield: About 12 spring rolls
Ingredients:
Spring Rolls
12 22-cm rice paper wrappers
12 butter lettuce leaves
1 red bell pepper, seeded and thinly sliced
2 carrots, peeled and julienned
1/2 English cucumber, thinly sliced
1/4 head of red cabbage, sliced
fresh mint leaves
fresh basil leaves
Peanut Sauce
1/2 cup creamy peanut butter
2 tablespoons rice vinegar
2 tablespoons soy sauce (use tamari if gluten free)
2 tablespoons honey
1/3 cup filtered water
1 teaspoon sesame oil
pinch of salt (add more to taste)
pinch of red pepper flakes (optional)
Read more at healthynibblesandbits.com