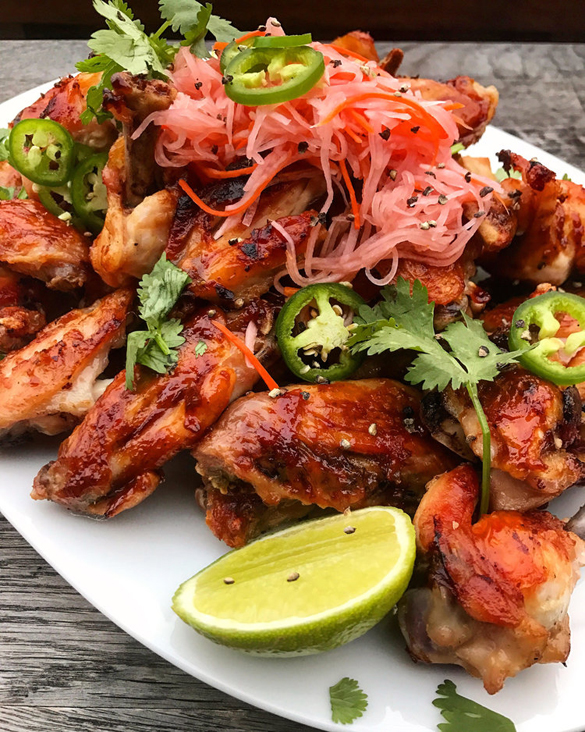 Chicken wings are brined in a pho inspired marinade: star anise, garlic, lime, ginger, fish sauce. The wings are roasted until crispy, then finished with a hoisin glaze. Pho wings are topped off with pickled radishes, cilantro, jalapeño, and lime; and finished with a side of sambal dipping sauce.
yields one party platter
Ingredients:
Pickled Carrot & Radishes
These can be made well in advance; they're great to have on hand.
Hoisin Glaze
4 T hoisin sauce
1/2 lime (juice)
1 t soy sauce
1/2 t honey
Sambal Dipping Sauce
1/4 C mayo
1/4 C sour cream
4 T of sambal oelek (more or less depending on taste)
Pho Wings
2 lb. wings approx. ((drumettes and flats) *Optional: french drumettes by cutting off the very end of the bone, then using your knife to push back the tendons and skin- leaving a clean bone and a chicken "lollipop".
4 T kosher salt
2 T sugar
4 C water
4 star anise pods
2 garlic cloves finely chopped
1/2 t ginger powder
1/2 lime (juice)
1/2 t fish sauce
1/4 t five spice
1 T canola oil
Read more at bitepunch.com
Find more fancy edibles in our popular Creative edibles or Fancy categories, and if you are looking for inspiration you will definitely find it in Food Art.