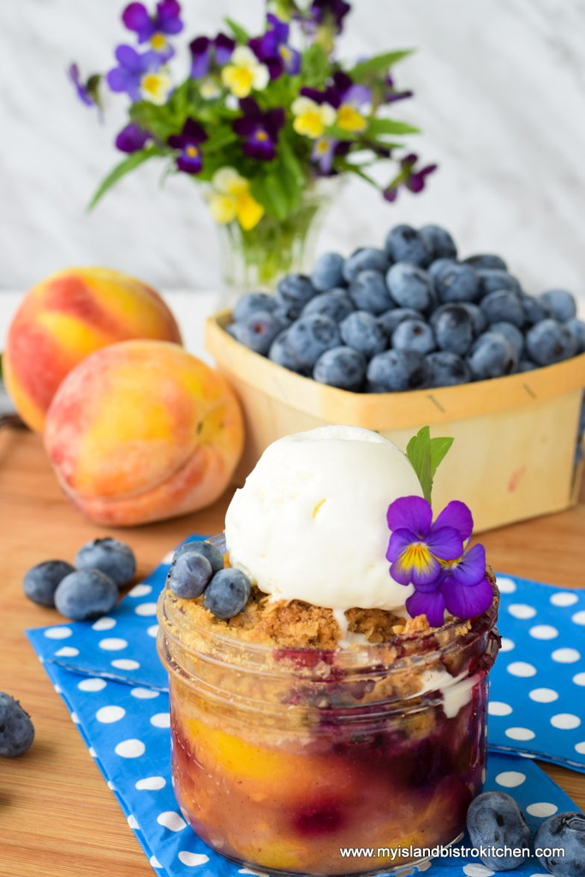 This summer crisp features plump blueberries and sweet peaches covered with a delicious buttery streusel topping. Serve plain or with a dollop of whipped cream or a scoop of vanilla ice cream.
Ingredients:
Streusel Topping:
¾ cup all-purpose flour (to make it gluten-free, use an equal amount of gluten-free 1-to-1 baking flour)
¾ cup light brown sugar
¾ cup quick rolled oats (to make it gluten-free, use the small-flake gluten-free rolled oats)
½ tsp baking soda
½ tsp salt
¼ tsp cinnamon
½ cup cold butter (no substitutes)
1/3 cup chopped pecans (optional)
Filling:
2 lbs fresh peaches
1 cup high bush blueberries
1½ tbsp lemon juice
½ tsp vanilla
2 tbsp light brown sugar
2 tbsp granulated sugar
3 tbsp cornstarch
¾ tsp cinnamon
Pinch nutmeg
Pinch salt
Read more at myislandbistrokitchen.com
Find more fancy edibles in our popular Creative edibles or Fancy categories, and if you are looking for inspiration you will definitely find it in Food Art.