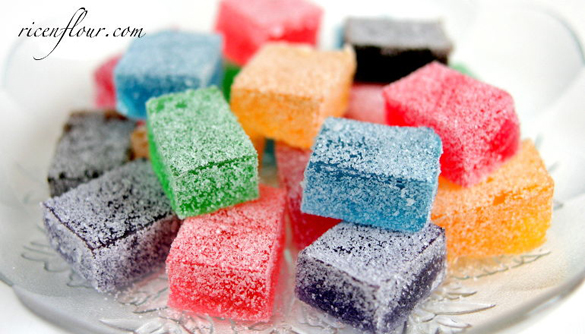 Homemade Gumdrops with different flavors: strawberry (red), orange (bright yellow), passion fruit (orange), lavender (purple), vanilla (blue), mint (green), coffee (dark brown)
Ingredients:
This recipe is for 16 – 20 candies. You may double, triple or multiply the amounts of ingredients if you want to have more.
25 gram gelatin (powder or sheets/ leaves)
70 ml (1/4 cup + 2 tsp) water at room temperature – to soak and soften gelatin
110 gram caster sugar (1/2 cup)
80 ml (1/3 cup) hot water – to make sugar syrup
5 ~ 10 ml lemon juice (1 ~ 2 tsp) – optional
Other food flavors and colorings – see Notes below
Candy molds: Feel free to use anything at hands: cake pan, chocolate molds, ice cube molds and trays, food storage box, etc.; silicon molds make it easier to remove the candies.
Read more at ricenflour.com