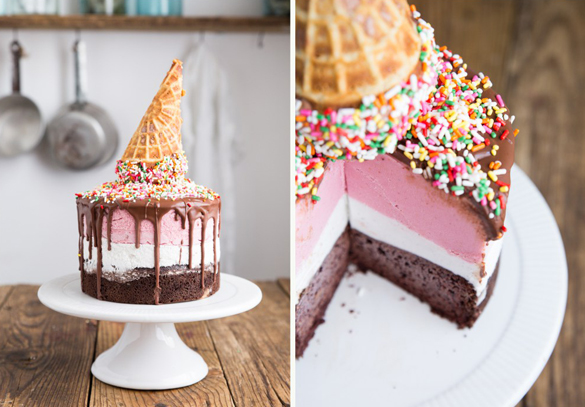 Special things you will need to get started:
1 6-inch round cake pan (2 or 3 inch height works)
2 acetate cake collars, you can find them at most cake stores
4-inch Pizzelle Maker or other waffle cone maker
Silicone Baking Mat
Serving platter or cake stand
Chocolate Cake (From My Paleo Patisserie)
Ingredients:
¼ cup (45 g) palm shortening or ghee (see sub note)*
½ cup (60 g) coconut flour
¼ cup (25 g) cocoa powder
1 tablespoon arrowroot flour
Pinch of salt
3 large eggs, room temperature
½ cup (120 ml) full-fat coconut milk
½ cup (120 ml) maple syrup or honey
1 teaspoon vanilla extract
1 teaspoon apple cider vinegar
¾ teaspoon baking soda
Note: You can use coconut oil if you like. Though it's best to use the refined kind that doesn't have a strong coconut flavor.
Strawberry Ice Cream
Ingredients:
1 can full-fat coconut milk
10-ounces strawberries, trimmed & quartered (about 1/2 pound after trimming)
1/4 cup maple syrup (see note 1)
1/4 cup honey (see note 1)
4-ounces Kite Hill Dairy-Free Cream Cheese (see note 2)
a few drops of natural red food coloring if desired
Note 1: You can also use all honey (1/2 cup) or all maple syrup (1/2 cup) if desired, instead of 1/4 cup of each. I prefer the balance of flavors that the two different sweeteners provide.
Note 2: You can use regular cream cheese if desired. Otherwise you can sub out the DF cream cheese with 1/4 cup coconut cream. The cream cheese lends a lovely flavor and gives the ice cream a super smooth texture as well as making the ice cream very "scoopable" even when well frozen.
Waffle Cone (From My Paleo Patisserie)
Note: I used 4 1/2 inch size Pizzelle maker for the waffle cone.
2 tablespoons Palm shortening, ghee or coconut oil
1 large egg
1 large egg white
1/4 cup maple sugar (or cane sugar), firmly packed
2 teaspoons vanilla extract
3/4 cup (75g) almond flour
3 tablespoons arrowroot or tapioca flour
1/4 teaspoon salt
Chocolate Ganache (From My Paleo Patisserie)
Ingredients:
5 ounces bittersweet chocolate (coarsely chopped) or dark chocolate chips (I use Eating Evolved)
2/3 cup full fat coconut milk
Read more at theurbanposer.com