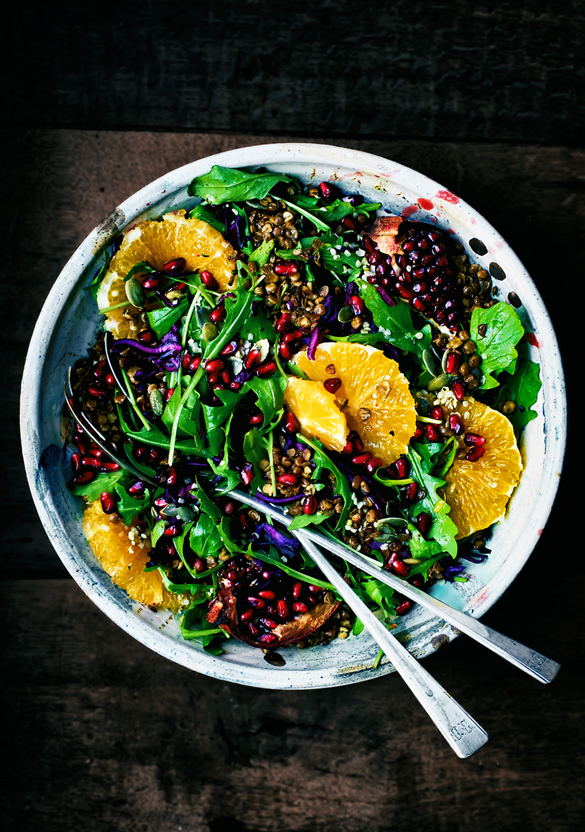 Ingredients:
Serves 2-4
Crispy Roasted Lentils with Ras el Hanout
1 1/2 cups cooked brown* lentils, soaked beforehand
1 teaspoon oil (grapeseed, avocado)
1/2 teaspoon pepper
1/2 teaspoon sea salt
1/2 teaspoon ras el hanout (optional)
Preheat the oven to 200C / 400F. Mix the lentils with the oil and spices until coated, then spread into an even layer on a baking sheet. Roast for 15-18 minutes or until crispy.
Detox Salad
4 cups rucola
1/4 small red cabbage (1 cup), shredded
1 large navel orange, peeled and sliced
Arils from 1/4 pomegranate
1/4 cup mixed seeds (pumpkin, hemp, sunflower)
Place all of the ingredients into a large bowl and top with the crispy lentils and orange ginger vinaigrette. Serve immediately.
Orange Ginger Vinaigrette
1/4 cup cold-pressed olive oil
1/4 cup orange juice (about 1 large orange)
1 teaspoon fresh grated ginger
1 teaspoon black pepper
Sea salt to taste
Read more at occasionallyeggs.com