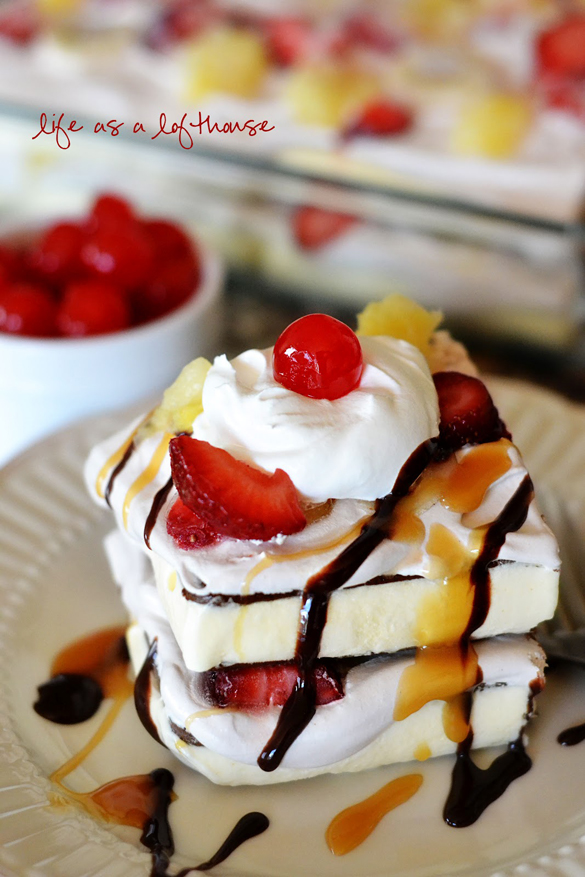 Recipe by: Holly Lofthouse
Ingredients:
19 Vanilla Ice cream sandwiches
1 (8 ounce) container Cool Whip
1/4 cup Chocolate syrup
1 pint fresh Strawberries, sliced
1-2 bananas, sliced
1 small can crushed Pineapple, drained
Toppings:
Cool whip, or whip cream
chocolate syrup
caramel sauce
cherries
Directions:
Mix together the cool whip and the 1/4 cup chocolate syrup. Set aside.
Line 9 1/2 ice cream sandwiches in the bottom of a 9×13 baking dish. Spread half of the cool whip mixture over the top. Spread half of the strawberries and sliced banana over the cool whip layer, spreading out evenly. Drop tiny spoonfuls of crushed pineapple over the top.
Line another layer of 9 1/2 ice cream sandwiches over the top of the fruit layer. Pressing down gently to pack in. Spread the remaining cool whip mixture over those sandwiches and then repeat another fruit layer. Tightly cover dish with saran wrap and freeze for atleast 6-8 hours or overnight.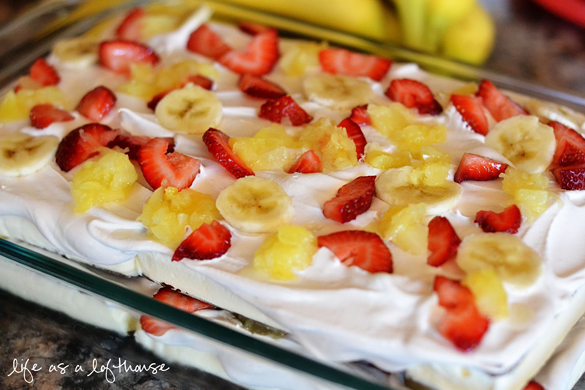 Serve with drizzles of chocolate sauce, caramel, cool whip and cherries!
View more at Life as a Lofthouse
Incoming search terms:
resepi banana split
,
ice cream sandwich cake